Predominance of Th2 Cytokines in AD
Th2 cytokines—including IL-13— play a key role in driving the amplification of the inflammatory response associated with AD.1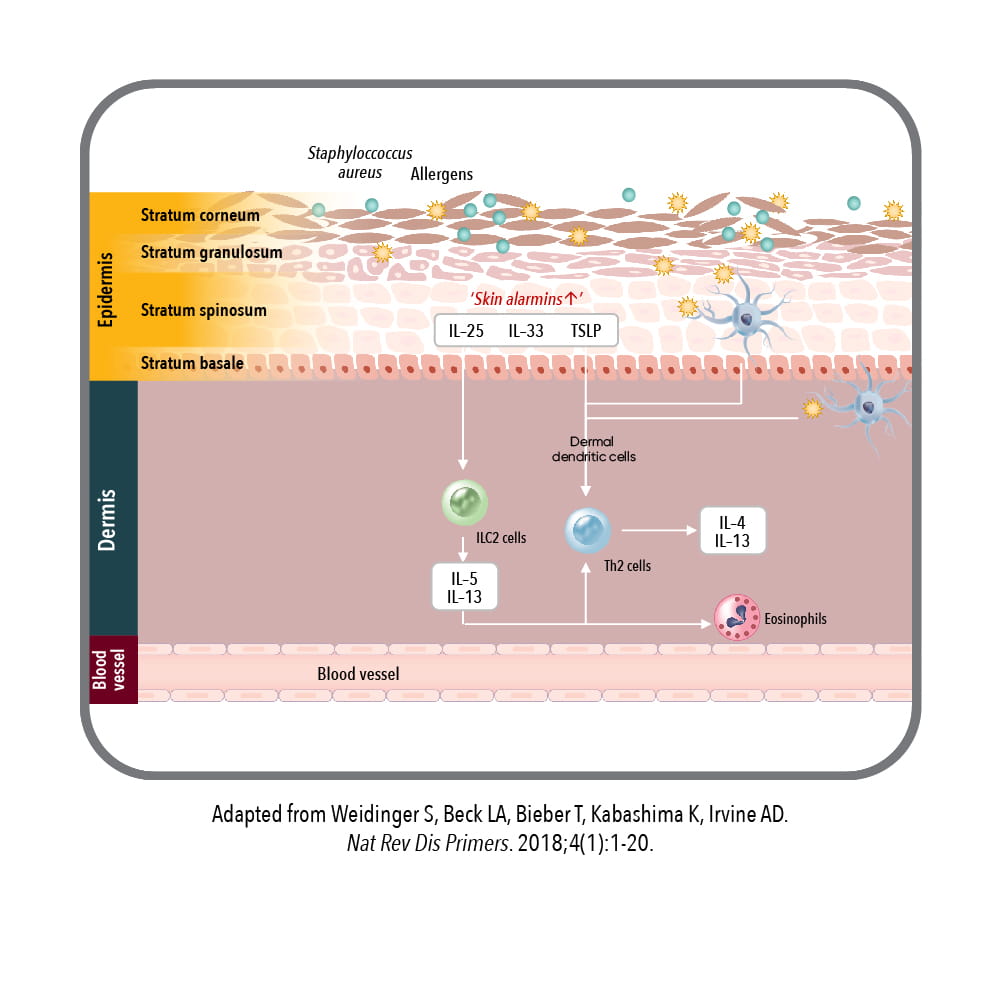 Non-lesional Skin
Due to immune dysregulation, non-lesional AD skin is characterized by subclinical inflammation as well as skin-barrier dysfunction1
Dendritic cells take up antigens and amplify type 2 immunity cytokines1
Worsened skin-barrier dysfunction can stimulate keratinocytes to further promote type 2 inflammation through the release of skin alarmins, such as IL-25, IL-33, and TSLP, which stimulate ILC2s to release more type 2 cytokines such as IL-13 and IL-51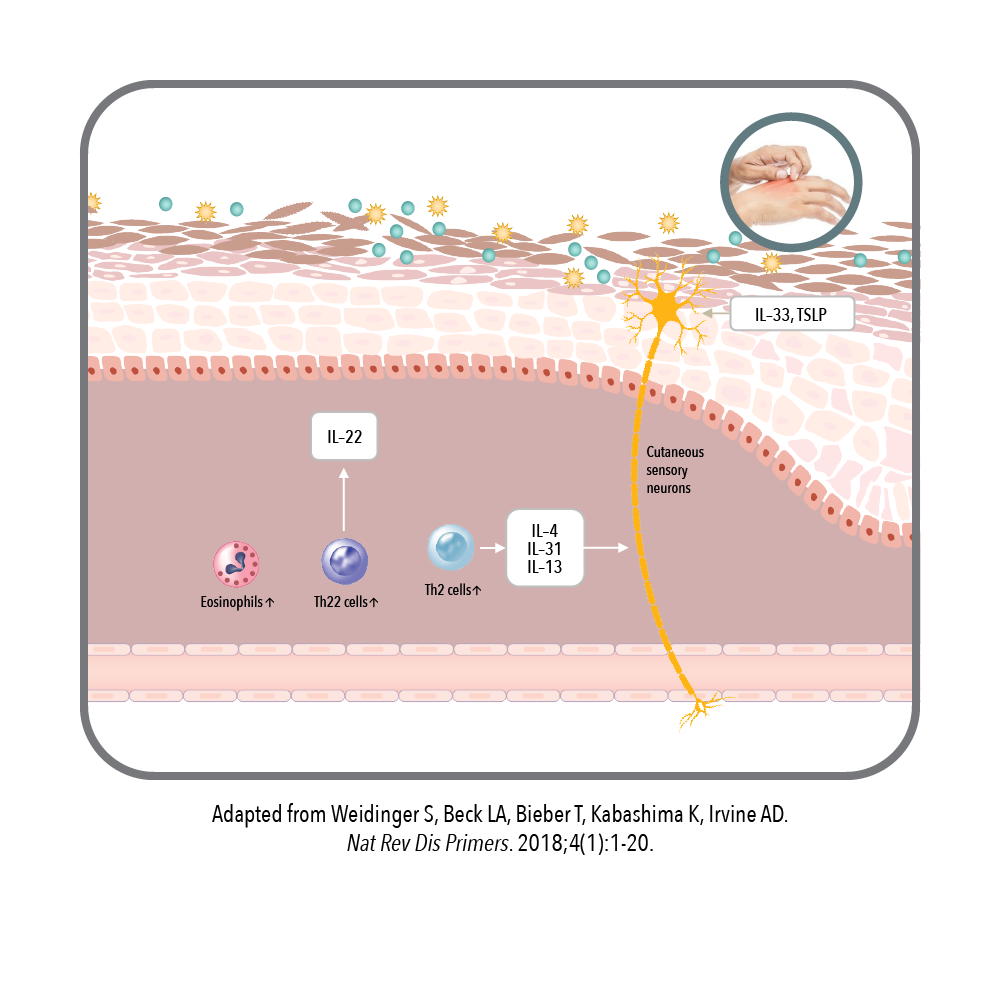 Acute Lesional Skin

Acute lesional skin is characterized by a reduced expression of important skin-barrier proteins and lipids involved in maintaining skin-barrier integrity1
The damage caused to the skin barrier triggers the release of further skin alarmins, expanding and activating skin-resident ILC2 cells to produce more cytokines, attracting more immune cells, and amplifying the inflammatory response, including the recruitment of more eosinophils, Th2 cells, and Th22 cells—producing more cytokines1
Both IL-33 and TSLP, as well as the downstream Th2 cytokines (IL-4, IL-13, and IL-31), act directly on cutaneous sensory neurons, activating itch signaling and leading to scratching1
During an AD flare there is a decreased microbial diversity, with increased presence of Staphylococcus aureus1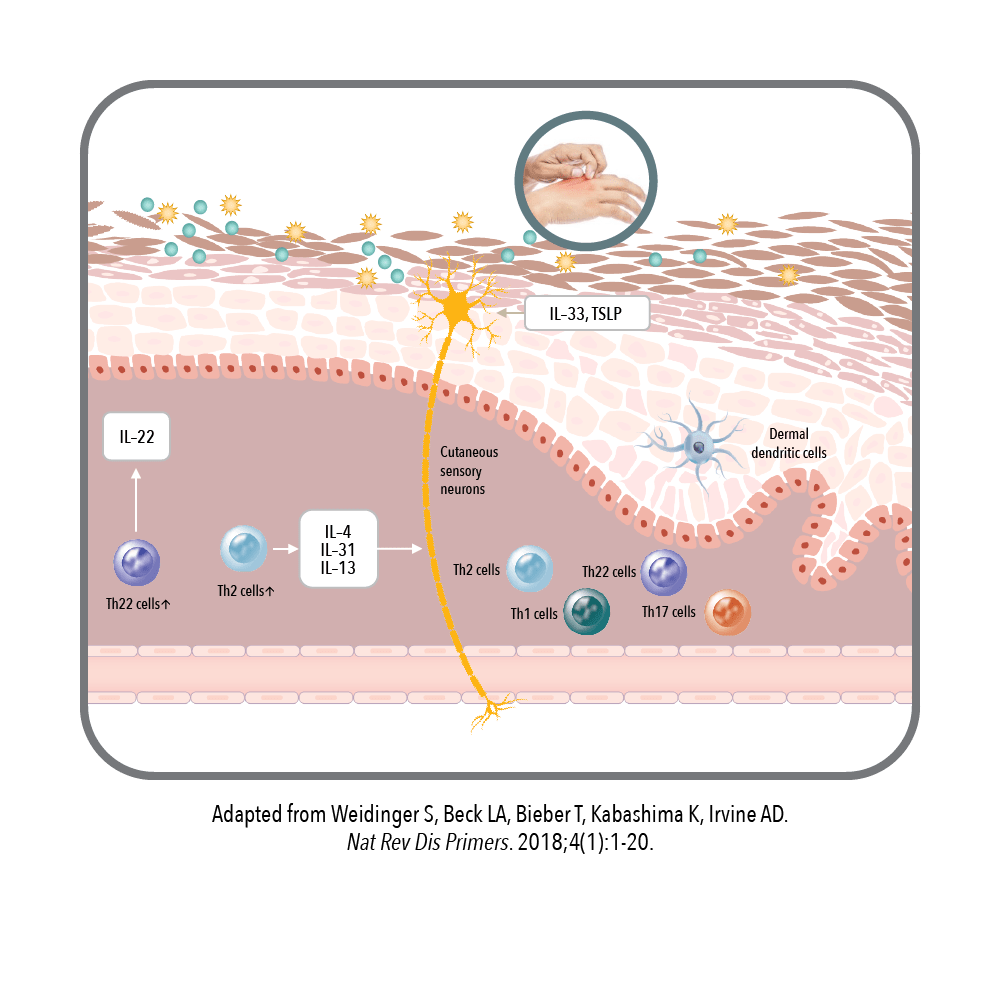 Chronic Lesional Skin
In the chronic stage, a mixed T-cell infiltrate, including Th1 and Th17 cells, perpetuates skin inflammation and promotes skin remodeling and fibrosis1
Repetitive scratching leads to lichenified (thickened) skin1
ILC, innate lymphoid cell; TSLP, thymic stromal lymphopoietin.
Th2 cytokines, such as IL-13, play a key role in AD signs and symptoms, including skin barrier defects and infections, inflammation, skin thickening, and promoting the itch-scratch cycle.1-9
Weidinger S, Beck LA, Bieber T, Kabashima K, Irvine AD. Atopic dermatitis. Nat Rev Dis Primers. 2018;4(1):1-20.
Howell MD, Kim BE, Gao P, et al. Cytokine modulation of atopic dermatitis filaggrin skin expression. J Allergy Clin Immunol. 2007;120(1):150-155.
Kim BE, Leung DY, Boguniewicz M, Howell MD. Loricrin and involucrin expression is down-regulated by Th2 cytokines through STAT-6. Clin Immunol. 2008;126(3):332-337.
Berdyshev E, Golvea E, Bronova I, et al. Lipid abnormalities in atopic skin are driven by type 2 cytokines. JCI Insight. 2018;3(4):e98006.
Nomura I, Goleva E, Howell MD, et al. Cytokine milieu of atopic dermatitis, as compared to psoriasis, skin prevents induction of innate immune response genes.
J Immunol. 2003;171(6):3262-3269.
Purwar R, Werfel T, Wittmann M. IL-13-stimulated human keratinocytes preferentially attract CD4+CCR4+ T cells: possible role in atopic dermatitis. J Invest Dermatol. 2006;126(5):1043-1051.
Oetjen LK, Mack MR, Feng J, et al. Sensory neurons co-opt classical immune signaling pathways to mediate chronic itch. Cell. 2017;171(1):217-228.e13.
Moriya C, Jinnin M, Yamane K, et al. Expression of matrix metalloproteinase-13 is controlled by IL-13 via PI3K/Akt3 and PKC-δ in normal human dermal fibroblasts.
J Invest Dermatol. 2011;131(3):655-661.
Mack MR, Kim BS. The itch-scratch cycle: a neuroimmune perspective. Trends Immunol. 2018;39(12):980-991.